Changing room accessories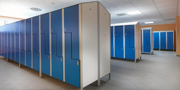 Our company distributes a broad range of changing room accessories. We recommend the high-pressure laminate (HPL) partitions and lockers for bath, swimming and sports facilities, fitness centers, health and community premises, as well as industrial facilities.
The main feature of our changing room accessories is their exceptional, heavy-duty and massive structure which is credited to its special material pressed in layers at high pressure and temperature in the manufacturing process. Their easy-to-clean and hygienic surface has a high resistance to chemical and mechanic impact, providing outstanding protection against heat and moisture.
The product ingredients are fully anti-corrosive and anti-static, and have a washable surface, ensuring easy cleaning and maintenance. The outer surfaces are neat, exceptionally representative and add a significant finishing touch to the quality and appearance of the environment, thanks to the rich range of available colors and patterns. Edges of the elements are rounded, excluding the risk of injury. The depth and material thickness of products varies by models, and may be customized according to client requirements. We offer alternative quotes to our Customers by considering their requirements and the practicable conditions.
Main products: locker room bench, locker-room bench, HPL locker, locker room, HPL, peg, hanger, anti-slip grids, changing room locker