Stadium seats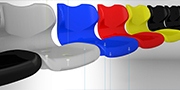 It is our goal to offer the spectators a safe and comfortable view and attendance of sports events or any other event in grandstands and stadiums. We strive to provide the highest satisfaction to our Customers, and put our years of experience into providing an open and heartfelt service, considering it our responsibility to help our customers find the solutions they need, and choose the products which provide the maximum satisfaction in their projects.
We ensure that projects are carried through from the very concept to completion.
In order to draft an offer and find the best utilization of space, it is necessary to provide the concept, the lay-out plans, piece count and solution method, which enable us to help you choose the most appropriate system.
If a newly built facility is still in the planning phase, we provide assistance in planning with detailed manufacture plans and parameters, thus facilitating the preparation of the investment. The stadium seats distributed by our company are manufactured in an ISO quality assured environment , tested in laboratories. We offer a minimum of 2-year guarantee for our products. Our high-backrest seats and tip-up comply with the international FIFA and UEFA requirements and regulations for premises. Materials used in our products are inherently colored and long-life, they can be mounted on any types of surfaces, and are easy to clean.

High resistance to vandalism + Comfort + Ergonomic design + Direct installation on any surface (concrete, wood, metal) + Easy cleaning + Almost no need for maintenance + Rounded elements + For indoor and outdoor usage + Robust construction + Different models for different requirements + Central drainage + Can be equipped with accessories + Plenty of colours to choose + Special brackets
Main products: bench style plastic seat, seat with backrest, seat without backrest, seat grandstand, grandstand seating, grandstand seats,stadium seat, stadium chair, , plastic chairs, plastic seat, vandal-proof seats, vandal-resistant seat, waiting room chairs, waiting room bench,executive chair, VIP seats, bench, folding seats,foldable chairs,stackable chair, unbreakable chair, fire-resistant seats, ergonomic chairs, ergonomic seat, sports seat, fixed bleachers chair, comfortable seating, a comfortable chair, upholstered seat

Main application areas: fixed bleachers, temporary bleachers, disassembled bleachers, mobile bleachers, concrete bleachers, grandstand steps, telescopic bleachers, fixed auditorium, temporary auditorium, dismantle auditorium, mobile auditorium, reinforced concrete auditorium, auditorium stairs, stadiums, qualified grandstand, football pitch , sports fields, horse track, bleachers, sports hall, arena, bench, bench, football field, soccer field, UEFA, FIFA facility, basketball courts, handball courts, ice rink, gym, outdoor theater, open-air auditorium of chairs, artificial grass courts, élőfüves court, football academy, football school , football court